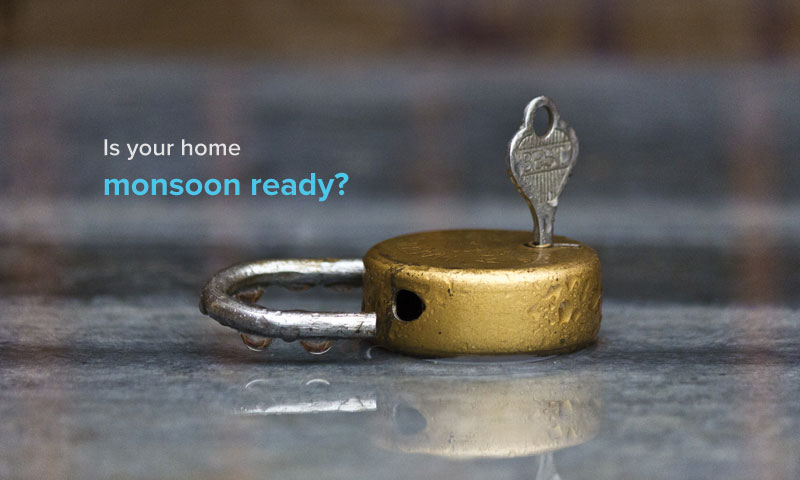 Monsoon Preparations
Prep-up to make your home Monsoon ready
With the sweltering heat torturing us on a daily basis, it is obvious that most of us are impatiently waiting for the monsoon to begin. But, as they say, the good always comes with the bad. With the cool breeze, green landscapes and lovely climate, also follows a host of problems. Here are a few tips to keep in mind for the upcoming rainy season:
1. Stow away any carpets/rugs: If you have any of those fancy Persian rugs or Kashmiri carpets, it's best to store them away for the season, as the humidity in the air will ruin them. The best way is to roll them up, put them in plastic sheets and store them somewhere dry. You can replace them with bamboo mats, till the monsoon ends.
2. Shift out indoor plants: If you have any potted plants inside the house, shift them outside as they have a tendency to increase the dampness in the house. For aesthetic purposes, you can substitute them with artificial plants for the season.
3. Keep away annoying pests: The rainy season provides perfect conditions for insects to breed and thrive. You can keep them away from your clothes by keeping neem leaves and cloves in your cupboard or between your clothes.
4. Spread some colour around: Even though the monsoons are generally perceived as romantic weather, the cloudy atmosphere can make your mood quite gloomy. Use of bright and lively colours such as yellows and oranges in clothing or upholstery can cheer up your mood and brighten the house instantly. Meanwhile avoiding very light colours such as white and beige is important too as they are very difficult to keep clean during monsoons.
5. Check your electrical connections: Monsoons pose a threat as far as electrical connections are concerned, exposure to rain might cause short circuits or make wires a hotbed for electric shocks. Also, be sure to repair all damaged electrical cords for a safer home environment.
These above mentioned tips and precautions will ensure you enjoy the monsoons without any hassles.